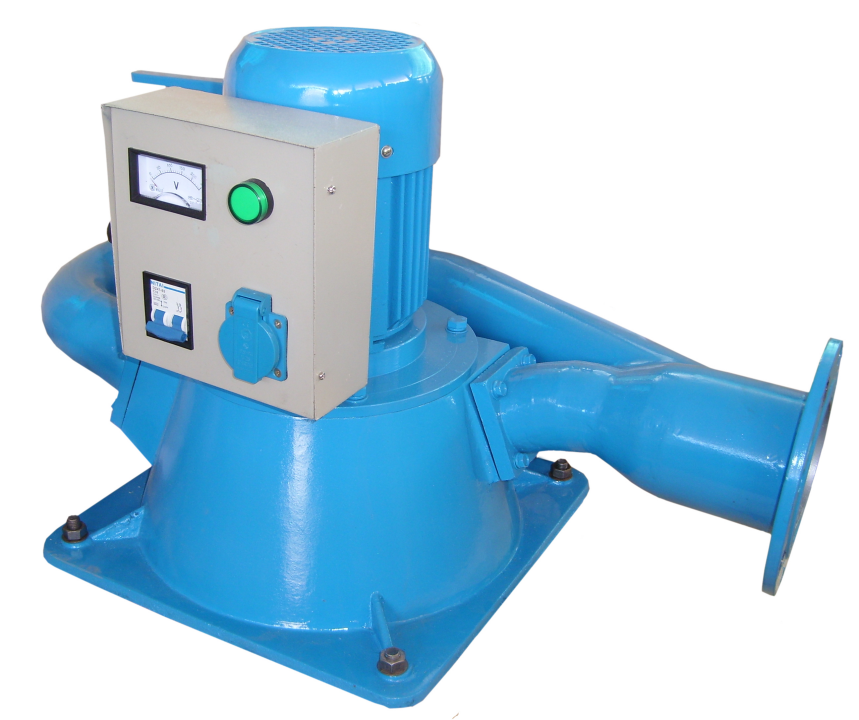 Micro Turgo type double nozzle Hydro Turbine 1100 Watts
| | |
| --- | --- |
| Model No: | XJ25-1.1DCTF4-Z |
| Output/Power: | 1100 watt |
| Rated Head: | 15 Meters |
| Rated Flow: | 10 – 15 (l/s) |
XJ25-1.1DCTF4-Z is an AC direct system consisting of a turbine-generator unit producing AC power which is used as needed.  That is, it is fed directly to the appliances.   No need for a battery and inverter, XJ25-1.1DCTF4-Z offers a complete water-to-wire system with an integral Turgo turbine, generator, and valve flow control. Designed to deliver ready-to-use 115V/230V VAC power, it employs a brushless, special rare-earth permanent magnet alternator and therefore has a higher efficiency than an ordinary alternator. Output voltage and frequency are controlled by the electronic load controller(with ballast).      As little as 10 to 15 liter per second (l/s) falling 15 meters through a pipe can supply enough power to comfortably run a small household. This machine is compact, easy to install, and requires little maintenance except lubricating the bearing every few months.
The Turgo turbine was designed for families in remote areas to produce power for their households easily and inexpensively. These units have been incredibly successful and today thousands are installed throughout the world. These turbines need very little water flow to run efficiently and produce significant power out. The standard configuration uses one nozzle.
Water is collected upstream from the turbine and channeled in a pipe down to the turbine location. At the turbine, the water passes through a nozzle, where it accelerates, strikes the turbine runner, and turns an AC single-phase brushless permanent magnet alternator. An electric load controller is built on the alternator which stabilizes the voltage to 110V or 220V to protect electrical appliances during use. Installation is very simple and explained in the manual. Once installed there are no running costs and maintenance costs are very low.
OUTPUT IN WATTS against various head and flow

Water head

(meter)

Water flow(liter/second)

10 liter/sec

12 liter/sec

14 liter/sec

16 liter/sec

18 liter/sec

10

300W

480W

700W

800W

990W

11

330W

528W

770W

880W

1089W

12

360W

576W

840W

960W

1188W

13

390W

624W

910W

1040W

1287W

14

420W

672W

980W

1120W

1386W

15

450W

720W

1050W

1200W

1500W
If you feel you may have a suitable site, please email specific information on your actual site. The information that is required for a preliminary assessment is:
1. The volume of water flowing in your stream, expressed as liters per second.
2. The head (height of drop) of the falling water, expressed in meters.
3. The length of the penstock (pipeline) in meters.
Specification
General characteristics of hydroelectric turbine:
Model: XJ25-1.1DCTF4-Z
Type: Vertical Turgo turbine
Net Head: 15m
Rated flow rate: 10-15L/s
Pipe diameter: 125-150mm
Power: 3000W
Efficiency: 70%.
Characteristics of hydroelectric generator:
REPMSG (Rare earth permanent magnet synchronous generator)
Conformity: Conforms to international IEC standards
Rated power: 1100W
Rated voltage: 230V (could be custom make)
Rated current: 4.78A
Frequency: 50 Hz (could be 60Hz)
Rated speed: 1500 rpm
Number of phases: 1
Power factor: 1.0
Altitude: ≤3000m
Insulation index: B/B
Protection index: IP44
Operating temperature: -25℃ ~ +50℃
Operating relative humidity: ≤90%
Control panel of the hydroelectric turbine:
Short circuit protection
Overload protection
Overvoltage protection
Ground fault protection
Packaging of hydroelectric turbine :
Packing material: Wooden panel box
Package size : 88 x 57 x 60 cm
Weight : 120KG
Download